To see East Germany as a refuge after the previous encounters would be a folly indeed.

This was the cold war alright, both psychologically and materially. Even the air seemed to be contaminated by the insidious power of the STASI.
We paused somewhere to check on directions. This involved the simple procedure of knocking on the door of an unremarkable house. The reception from the male occupant was a symbiosis of suspicion and palpable fear. GO AWAY. Maybe somebody had been informing and he dreaded the chilling rattle of an unknown visitor… An unnerving experience for both of us.

The STASI or Ministry of Security was founded in 1950. At it's height it was the largest and most feared state security outfit on the planet. The scale of 'informing' on your fellow citizens was staggering. One could simply disappear. Citizens turned informants became a vast network. It had strong links to the KGB and could infiltrate Western countries.
Materially the traffic and roadside furniture were the embodiment of menace.The whole theatre was given dramatic emphasis by being enveloped in freezing fog. Troop carriers, half-tracks and tanks emerged from the misty depths and rumbled on their way. The roadside borders consisted of watch towers, barbed wire and search lights. The 'Third Man' was not in this league. It was the culmination of all the totalitarian literature and experience that one had ever read. One pathetic consolation, our German plates would not raise an eyebrow here.

In the encircling gloom and darkness we got to West Berlin. The whole process of finding somewhere to stay, let alone pay for it, was beyond us. A cosy night in Esmeralda beckoned. Oh joy.
In the morning, through the fogged up windows, we could see the plump, well breakfasted inhabitants toddling off to work, chatting away, life on earth turned upside down. How could this be? What about the world we had just left?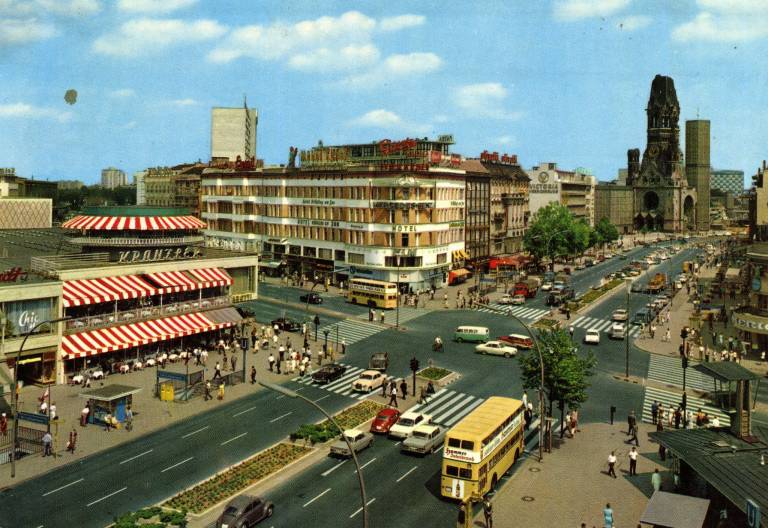 Esmeralda had a freshen up and a pep talk. The fading clutch continued in fade mode. I pretended the gear box was full of newly hatched chickens, gently does it.
Off to the south through West Germany en route to Munich, progressing through an agreeable landscape. Ahead, a signpost, a rather flimsy affair, almost an afterthought. One word. Dachau. We get there.
One abiding image; a grainy 2 metre square photograph of a pile of children's shoes.

How such an image of apparent innocence could have such unimaginable implications burns itself into your head. Forever.

---
Onward across the Western Alps and into northern Italy. By now a few green shoots of spring were starting to appear. As we descended around a sharp corner, a small bank of lovely wildflowers presented themselves. A moment's inattention. Keep your eyes on the road David! Too late.

Two motorcycle policemen were dead ahead as I drifted to the left. They were impressive and would not disgrace an Italian rugby team, their whole physicality set off by their splendid tan uniforms, Sam Brown belts and the shiniest of black boots imaginable. Even their bikes were Concours standard. Black shades glared.
They passed by. I counted to ten. By the time I got to six they had re-appeared, one at the front of the car, one at the rear. God they were menacing. The German plates screamed at them. A notebook was produced as we were ordered out of the car.
Ronda was quite blonde and could pass for German, I was close enough.
A fine of horrendous proportions was mentioned. We would pay for this, and how.
'PASSPORTS' one of them snapped. Ronda produced said document. He read the two words on the cover and handed it back, unopened. The world then spun 180 degrees on it's axis.
Our man gazed into space in some kind of reverie. As he crunched the dangerous driving violation into waste paper , he breathed three words…..Orsongna, Cassino, Faenza.
From late 1943 to mid 1945, New Zealand regiments fought alongside the Italians in a series of brutal battles. Silence.
'Where are you going?', he asked 'Firenze?'
'The Uffizi', came the reply.
Moments later, Esmeralda had a police escort, front and rear, to take us to the gallery. They helped us find a car park and bade us farewell in the most generous terms.
Wars cast a long shadow, not all of it bad.