A final reflection on the vastness of Siberia.

Some 40 plus years later, Ronda and I had an all expenses paid trip, plus fee, to Sakhalin Island, a place described by Chekhov in a landmark series of articles (c.1890) as 'hell'. It was a prison camp in Tsarist days.
It lies to the north of Japan, being the easternmost part of Russia and was divided into the northern Russian section with the southern belonging to Japan.

At the end of the Second World War, in a brutal conflict, the Russians conquered the whole island and lay claim to it to this day. A big part of the prize lies underground, the huge quantities of oil and gas being heavily exploited. This industry is multi national and the children of the employees, of course, need international schools.
Thus it was, early one week Ronda and I were happily doing a school visit in a local village, within a few days we flew to Seoul in Korea and then north to Sakhalin to work with the international kids. A remarkable (and exhausting) experience. Good exercise was provided by a fine tennis court and a sprinkling of tolerable tennis players amongst the staff.

And so into Poland, the nagging premonition still hanging in the freezing air.

My knowledge of this country was basic to say the least. When I was a kid in Tasmania our elderly Polish neighbours had escaped from that country at the end of the war. From my point of view it was hard to see southern Tasmania as a kind of earthly paradise but, to them, it was even more than that. I was too young and ignorant to comprehend the full horror of their lives. Of course, think Poland, think the Chopin who everybody knows, or should. The Polonaises and Mazurkas are old friends but it was his third piano sonata that caught me out. It emerged from the car radio, a sort of son et lumiere as the trailing car headlights indicated I might speed up a bit. I pulled over and entered this sublime world that Ashkenazy picked out with consummate skill. How extraordinary that a series of notes played on a single instrument with no devices, augmentations or frills whatsoever can have such profound power.
The road to Warsaw would not be dignified by such a term. There were no frills here either. At times it was very much a communal thoroughfare, carts, pedestrians, bikes, and the odd cow or two added to this bucolic agrarian landscape. Darkness had descended and Esmeralda's lights struggled with this farming melange. This was not quite the sophisticated Europe that I had imagined.
The door pillar took the full force of the blow. Down he went with a sickening thud.
Rounding a hairpin bend this swaying figure appeared in the middle of the road, 20 metres away. Good reflexes swerved but he was side-swiped. Oh God, we still had those German plates which were seen at once. People materialised from everywhere. By indication and gesture and the Polish for GO! GO! GO! was yelled at us. No we didn't. Getting out of the car we approached our supine friend and , as we surveyed the damage, we were re-assured. We got him to his feet and a bit of self propelled arm rubbing started to happen. This good sign was dwarfed by the cloud of pungent vodka that wafted round our best efforts. Our man was legless.
He seemed OK, but we could not be sure. A lengthy spell in a Polish gaol could be on the cards if things were otherwise, so we followed the advice of our farming friends and got going.

Warsaw cheered things up. At least it's modest display of neon lights and signs was a tad more welcoming than the Russian equivalent.
This city and it's Jewish community suffered terribly during the war. This pogrom has been well documented, and despite the rebellion in 1944, this again was crushed by the Nazis. In September 1945, the Russians captured Warsaw. By January of 1945 80-90% of the buildings had been destroyed. Re-building of a sort commenced under a Soviet puppet regime. 'Stalinism' lasted until 1956.
Esmeralda was performing well, no hint of the sulks, so we set off for the East German border. The journey included the attractive university city of Poznan, it's architecture and general aura giving a real lift to proceedings. The same could not be said of our 'in car' catering, perhaps the food would be better in a Polish prison, one of us joked.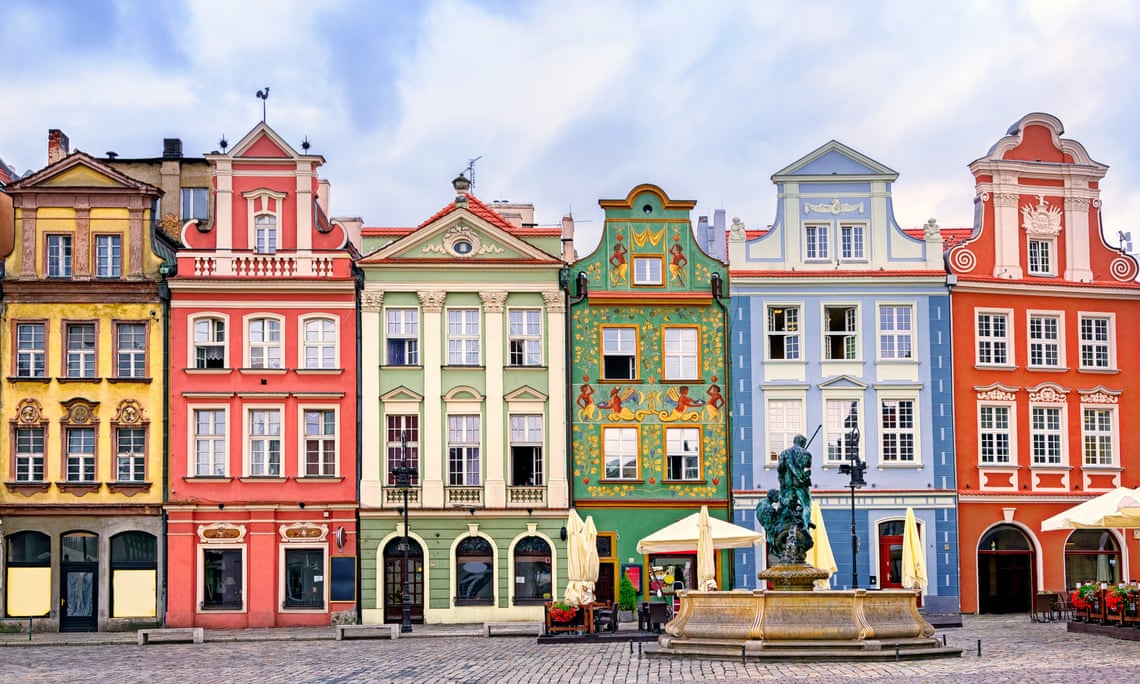 Ho Ho!.. The East German border resembled a military parade ground with a load of police thrown in. Everybody had to get out of their cars and thorough searches of the whole vehicle, inside and out, led to long queues forming. I was almost certain they were looking for something or perhaps some collateral damage, particularly with foreign cars. No more jokes about Polish prison food.
We got to the head of this vice-like road block. Nerves jangled.
A rather jaded para military waved us through, he did not even want us to stop.
Read more of my adventures in the previous episode.
Or start at the beginning… I was born at a very early age…